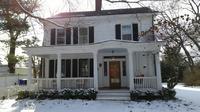 Rentals
Discover all that Greenwich, CT has to over. Located just 1 hour away from New York, NY. The Greenwich, CT area is a great location if you're seeking a larger home outside of the city but close enough to all the amenities a city has to offer.
If you have any questions or would like more information about a property, feel free to
contact Russell Pruner
. You can also
register on-line
with our site to start saving all of your favorite real estate listings.